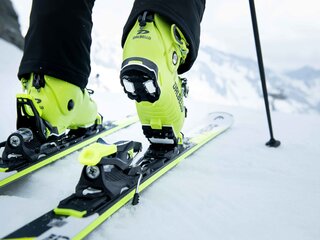 Ski & poles
Rental prices 2020/21
1
day
2
days
3
days
4
days
5
days
6/7
days
1 more
day
Basic
21,-
40,-
59,-
74,-
85,-
95,-
7,-
Economy
26,-
49,-
70,-
89,-
104,-
114,-
8,-
Premium
31,-
59,-
86,-
107,-
125,-
139,-
10,-
Superior
39,-
76,-
106,-
129,-
149,-
169,-
15,-
Kids
0 - 7 years
7,-
13,-
18,-

23,-

28,-
32,-
3,-
Youngsters
8 - 14 years
12,-
21,-
30,-
39,-
44,-
49,-
4,-
* Kids up to 10 years rent for free, if both parents rent ski/snowboard!
* Inexpensive protection against tefth!
* Kids helmet for free!
* Free ski storage in our shops!
Please mind: It is no longer possible to return rental equipment in Ischgl - no INTERSPORT Partner in Ischgl at the moment.
Snowboard
Rental prices 2020/21
1
day
2
days
3
days
4
days
5
days
6/7
days
1 more
day
Adults
24,-
46,-
67,-
82,-
95,-
105,-
8,-
Kids + Youngsters
up to 14 years
12,-
21,-
30,-
38,-
44,-
49,-
4,-
Boots
Rental prices 2020/21
1
day
2
days
3
days
4
days
5
days
6/7
days
1 more
day
Adults
13,-
24,50
33,-
41,-
47,-
53,-
3,-
Kids
0 - 7 years
6,-
10,-
13,-
16,-
18,-
20,-
2,-
Youngsters
8 - 14 years
7,-
13,-
18,-
22,-
25,-
28,-
2,-
More things to rent
Rental prices 2020/21
1
day
2
days
3
days
4
days
5
days
6/7
days
1 more
day
cross-country skiing
Classic
(Ski+boots+poles)
16,-
29,-
39,-
49,-
59,-
69,-
5,-
cross-country skiing
Skating
(Ski+boots+poles)
19,-
32,-
42,-
52,-
62,-
72,-
6,-
Helmet or
back protector
7,-
12,-
16,-
20,-
23,-
25,-
1,-
Jacket or pants
incl. final cleaning
16,-
29,-
39,-
49,-
59,-
69,-
5,-
Toboggan
7,-
11,-
15,-
19,-
22,-
26,-
2,-
Carefree package
4,-
7,-
9,-
11,-
13,-
15,-
0,-