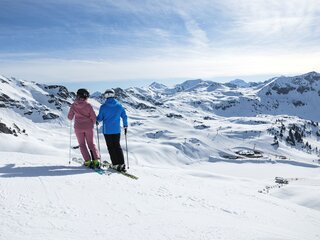 Galtür ski and bike rental
INTERSPORT Wolfart
Free foot analysis
Every foot is as unique as a fingerprint. We measure your feet using modern scanning methods to assist you in choosing the right boots. No shoes that pinch any more from today – wanna bet!
Our region
experience Galtür & Ischgl
All aspects of mountain sports. Whether it's summer or winter, our wonderful mountains offer enjoyment and adventure for all ages. From a map of the slopes to booking your accommodation, you will find the information here:
Test&Buy
Practically all alpine skis in our rental range are available to test in practice. Up to two rental days will be deducted from the purchase price!
Free cancellation
Full flexibility in the rental at INTESPORT Wolfart in Galtür: With us you can cancel your rental equipment free of charge without giving any reason.
Hygiene is important to us
Hygiene in ski- and bike renta has always been an important thing to INTERSPORT Wolfart. Since ever we desinfect ski boots and helmets after each rental. Because of the current situation we offer free hand desinfection as well to our customers.
World first in ski service
Feel a new driving experience! We give your skis a tailer-made cut, adapted to your driving skills.
Summer in Galtür
You love Galtür for skiing in winter? Think about visiting us in summer as well! A lot of great experiences awaiting you. Get your e-bike in our bikerental and explore the magic of the mountains.