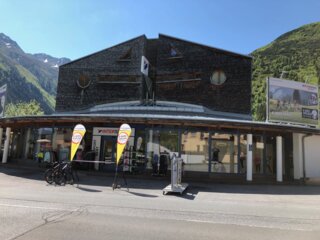 Main store opposite Hotel Ballunspitze
Contact
Main store opposite Hotel Ballunspitze
Galtür 21a
6563 Galtuer
Austria

opening times
today
08:30 - 12:00 o'clock
13:00 - 18:00 o'clock

all opening times
Opening hours summer
summer start: 05.06.2023
05.06.2023 - 10.10.2023
monday - saturday
08:30 - 12:00, 13:00 - 18:00 o'clock sunday
09:00 - 12:00, 15:00 - 18:00 o'clock
Opening hours winter
winter start: 23.11.2023
23.11.2023 - 16.04.2024
saturday
08:00 - 18:00 o'clock sunday
08:30 - 12:00, 15:00 - 18:00 o'clock monday - friday
08:00 - 12:00, 13:00 - 18:00 o'clock
INTERSPORT Wolfart – main shop opposite Hotel Ballunspitze
Your sports shop & rental expert on the Hauptstraße main street
You will find the largest range of sports equipment and apparel in Galtür in our main shop – INTERSPORT Wolfart on the Hauptstraße. Plenty of space for you to enjoy your shopping experience in peace and a modern setting over 400 m².
Equipped with over 2,000 rental items, there is nothing left to be desired for the whole family. We also offer sports fashion suitable for every season for children in the main shop.
The attached ski workshop often offers the opportunity for your equipment to be serviced straight away. We will in any case take care of your service requests "overnight" so that your equipment is ready for use the next morning.
Second branch on the village square
Visit us at our second branch on Galtür village square. You will find numerous sport fashion brands here in addition to the main shop. Particularly popular on the village square: our ski storage!